This season, under the leadership of real-life Santa Claus Jurgen Klopp, Liverpool FC finished second in the English Premier League. Of course, putting up the club's highest individual total in premier league history (97 points), and losing just one game in 38, wouldn't be enough...
Around 20 years ago, and through the naughties, Liverpool FC was one of the formidable "top-four" clubs of the English Premier League, regarded as one of the best football leagues in the world. Around the same time, back home, urban Indian fans deciding which of the four giants they would pledge their allegiance to – for every football conversation for the next few years, at least.
There were the Manchester United fans, the perfectionists who couldn't handle a single loss; the Arsenal fans, mild-tempered and passionate (also most likely to get the club logo tattooed on themselves); the Chelsea fans, who only cared about the club enough to buy all its merchandise; and the Liverpool fans, whose teachers always told them they had the potential to do better if only they "applied themselves". There was always, of course, the odd West Ham or Tottenham fan, but back then you could tell they had no stake in the game, apart from throwing a contrarian opinion every now and then, and were usually left out of the more serious "top-four" discussions.
This little ecosystem of football fans of my school (which is now grown to almost 160 million people across the country) had their own version of banter as well. When football was involved no one's parents were off limits, and no amount of wishing death upon professional world-class footballers was frowned upon. When Manchester United clashed with Liverpool, it was the football fan's version India-Pakistan. I had a friend who used to look me right in the eye as he twisted the head of a Steven Gerrard bobblehead in his hand, every single time we would watch the match together. With absolutely no regard for the doll's friends and family even. To say that things would get heated is to put it very lightly.
Back then, the fans of other clubs had a slight advantage over Liverpool. While the other three clubs that made up the erstwhile "top-four" had at least one Premier League title to their name, Liverpool FC hadn't – and still hasn't – won a single title since the league was officially formed in 1992. Even Blackburn has one league title to its credit. Still, you don't see too many Indian Blackburn supporters at live screenings, and that fact alone should give you an idea of how relevant Liverpool has been through the years. Despite constantly throwing up world-class performances, with players like Xabi Alonso, Fernando Torres, and Luiz Suarez to name a few, the club hasn't managed to lift that elusive trophy.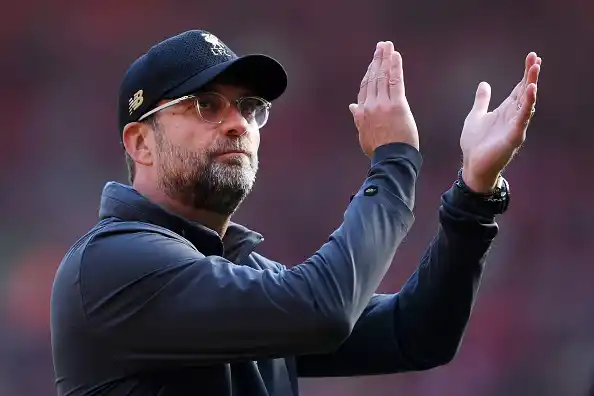 Even real-life Santa Claus Jurgen Klopp couldn't get Liverpool their first title

Laurence Griffiths/Getty Images
The last time they've come close was back in 2013-14, when Brenden Rodgers took the team 1 point away from premier league glory. This year, under the leadership of real-life Santa Claus Jurgen Klopp, it's finished second again, but in a brand new premier league. Now, even putting up the club's highest individual total in premier league history (97 points), and losing just the one game, isn't enough. The combination of Mo Salah, Bobby Firmino, and Sadio Mane was too much to handle for any club, as evidenced by the 82 combined goals they've scored this season. The defenders, led by human giant Virgil Van Dijk haven't let much through, and captain Jordan Henderson's consistent performance in the midfield even has football experts confused. Not a single 1-0 loss to Stoke, no chokes during big games. Liverpool even boasted of substitutes like Divock Origi, who could just show up and turn around a 3-0 deficit to Barce-fucking-lona in a Champions League semi-final. This was the season Liverpool FC would finally stick it to their former "top-four" rivals. Still, they haven't been able to lift that god damn trophy.
At this point, it's hard to feel anything but bad for the club. Even fans of other clubs have toned down the hate. On social media like Reddit or Twitter, or even on rival fan channels on YouTube, it's easy to see the respect the club's players and manager have earned over the last year. Just the thought of grandfather Klopp looking sadly at the Manchester City team lift another trophy is enough to make anyone's eyes well up. Even my doll-murderer friend had to agree, it was a sad moment for football.
But Liverpool fans are used to lowering their expectations at this point. After watching the club spend a few years mid-table and at one point languishing at 16th place in the league, even second place is a giant victory. As Klopp continues to transform the club into the world's most efficient football machine, that elusive win will finally come to the club, and everyone will cheer together (except the Chelsea fans, they're still shit). And with a build-up of this calibre, you can be sure that when the victory does finally come, it will be sweeter than ever. For now, they'll have to wait another year for their shot. But until then, there's a Champions League final to look forward to.